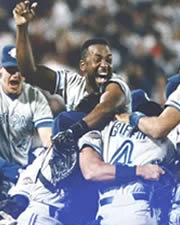 The 1992 edition of the Toronto Blue Jays will be remembered as the first team from Canada winning a World Series and for that feat, they were elected into the Ontario Sports Hall of Fame in 2001. So then it was only natural that the 1993 World-Series champion Jays be on the ballot again for 2002 and lo and behold, they were elected.
During the regular season when they attracted more than 4-million fans to the SkyDome, the Blue Jays (with East York's Rob Butler helping out) captured first place in the AL East with a 95-67 record. Then the Jays went to beat the Chicago White Sox 4-2 in the best-of-seven AL championship before outduelling the Philadelphia Phillies 4-2 in the World Series, thanks to Joe Carter's clutch homer in the bottom of the ninth inning in Game 6.
"There was a lot of pressure on us in '92," Carter said. "It was all about business. In '93, we had the experience of post-season play and winning the World Series under our belts. We were so relaxed. We enjoyed what we had accomplished in 1992 and all the pressure was off us in '93.'' Now about that home run by Carter at 11:39 p.m. on Oct. 23 – well, it came on a 2-2 pitch from Mitch Williams of the Phillies. On the previous pitch, Carter swung ("badly", he says), missed on a slider. As he geared up for pitch five, Carter recalled saying, "I have to make sure I hit the ball. Don't worry about yanking it. Just see the ball and put the ball in play somewhere." He put the ball – a fastball down and in – in play allright, over the left-field fence to give the Jays the win, the first time a player ended a World Series with his team behind. "If I could do cartwheels, I would have done cartwheels as I rounded the bases. That's how happy I felt," Carter said.