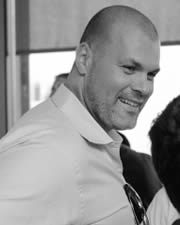 Adriano was born and raised in Toronto. A standout of the Central Tech football program, he was able to earn a scholarship at the University of Houston where he starred as a defensive tackle. Belli was drafted in the CFL but opted for the NFL and XFL instead before finally joining the Lions in 2001.
After stints in BC, Montreal and Hamilton, Belli finally landed with the hometown Argos in 2007. This 6'5, 289 pound defensive tackle made quite a reputation for himself on the field as a devastating hitter and debilitating tackler. But off the field, it was a totally different story. Adriano got the nickname "The Kissing Bandit" for the affectionate way he greets those he meets. Early in his career, Belli began donating his time and efforts to set up his Big Kiss Fund, which has raised thousands of dollars for the Hospital For Sick Children.
After 11 years of pro football, Belli retired this past spring to become more involved with the family meat packing business. But he continues to be heavily involved in charity work and continues his annual Valentine's Day dinner, where he invites former teammates to serve up meals for The Big Kiss Fund.