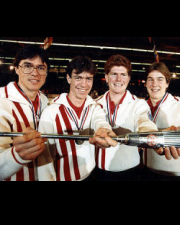 Allan A. "Al" Hackner (at left in picture, with his rink) was born in 1954 in Nipigon, Ontario. As an adult, Hackner moved to Thunder Bay, where he enjoyed his greatest curling successes. Nicknamed "the Iceman", Hacker is a Canadian Hall of Fame curler, and two-time Brier and World Champion skip. He is of Ojibwa descent and is a member of the Red Rock Indian band.
Hackner has skipped the Northern Ontario team in 9 Briers (1980, 1981, 1982, 1985. 1988, 1989, 1992, 1995 and 2001). He won the Brier in 1982 and again in 1985. In 1982, he defeated Brent Giles of British Columbia to win his first Brier.
In 1985, he defeated Pat Ryan of Alberta to win his second Brier. To win the game, Hackner had to make a near impossible double-take out, which would later go down in curling infamy as the "Al Hackner double".
In addition to playing for Northern Ontario, Hackner also represented Alberta at the 1972 Canadian Mixed Curling Championship, playing second for Darrel Sutton.
In 2006, Hackner won the Canadian Senior Curling Championships which he followed up with a silver medal at the World Senior Curling Championships in 2007.