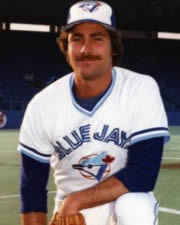 Born in Santa Ana, California, Dave Andrew Stieb played for the Toronto Blue Jays from 1979 to 1992 and again in 1998. On September 2, 1990, he pitched the first (and, to date, only) no-hitter in Blue Jays history, defeating the Cleveland Indians 3-0. Previously, Stieb had no-hitters broken up with two outs and two strikes in the bottom of the ninth inning in two consecutive 1988 starts.
In 1989 he had a potential perfect game broken up with two outs in the ninth. After an excellent 1990 season, a string of shoulder and back injuries early in the 1991 season ended his effective pitching years, culminating in a 4-6 season in 1992 that resulted in his release. In 1993 he played four games with the Chicago White Sox, before finally retiring due to lingering back problems. In 1998, after a five-year hiatus from baseball, Stieb returned to the Blue Jays and pitched in 19 games. He recorded one win and two saves, and started three games.
Dave Stieb's name is honoured by the Toronto Blue Jays in the Rogers Centre.
During his career Stieb won 176 games while losing 137. Only Jack Morris won more games in the 1980s. Stieb holds career records for Toronto pitchers in wins, games started, shutouts, strikeouts, and a variety of other categories. Stieb appeared in seven All-Star games, also a Blue Jays team record.