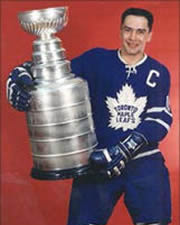 George Armstrong was born on July 6, 1930 in Bowlands, Ontario. Nicknamed "Chief" due to his Irish-Algonquin heritage, Armstrong was put on the Maple Leafs protected list in 1946 when he was playing with the Copper Cliff Jr. Redmen of the Northern Ontario Hockey Association (NOHA).
He played for the Toronto Marlboros and spent two seasons with the Leafs American Hockey League (AHL) affiliate, the Pittsburgh Hornets.
He finally made the jump to the big club in 1951-52, playing in 20 games.
George Armstrong would go on to become a fixture at center for the Toronto Maple Leafs. He was named as captain of the Maple Leafs in 1957 and was called "the best captain, as a captain, the Leafs have ever had", by Conn Smythe. Armstrong was an integral part of several successful Maple Leaf teams, winning four Stanley Cup championships.
He retired as a player in 1971 and went on to coach the Toronto Marlboros to Memorial Cup victories in 1972-73 and 1974-75.
George "Chief" Armstrong was inducted into the Hockey Hall of Fame in 1975.
He spent nine years as a scout for the Quebec Nordiques and came back to Toronto in 1988 for a short stint as assistant general manager and scout.