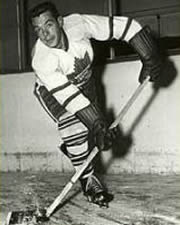 Howard "Howie" Meeker was born November 4, 1923 in Kitchener, Ontario.
Meeker missed the 1943 and 1944 seasons while serving in the Canadian Armed Forces during World War II, but returned to join the Toronto Maple Leafs where he won the Calder Memorial Trophy as outstanding rookie player for the 1946-47 season. During that remarkable first season he set the league record of five goals in a game against the Chicago Blackhawks on January 8, 1947.
He played in three NHL All-Star games during his career of 346 games, and won 4 Stanley Cups in 1947, 1948, 1949 and 1951 all with Toronto.
He also coached the Maple Leafs, replacing King Clancy on April 11 1956, leading the Leafs to a 21–34–15 record.
Meeker also spent three years as a Progressive Conservative MP while playing for the Leafs. In June 1951, Meeker won the federal by election in the Ontario riding of Waterloo South.
He also ran a hockey school as summer camps in Canada and the US for 35 years.
Howie was inducted into the Hockey Hall of Fame in 1998 in the Broadcasters Category, following a 30 year career on Hockey Night in Canada, TSN, CTV and NBC.