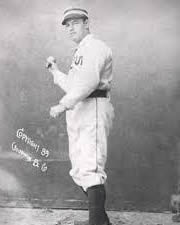 James Edward "Tip" O'Neill (May 25, 1858 – December 31, 1915) was a Canadian left fielder in Major League Baseball in the late 19th century.
Nicknamed "The Woodstock Wonder" though born in nearby Springfield, Ontario, O'Neill played ten seasons, 1883-1892, for the New York Gothams, the St. Louis Browns of the American Association, the Cincinnati Reds, and the Chicago Pirates of the Players' League. He batted .326 over his career.
He also pitched for two seasons, winning 16 games and losing 16 games, with an ERA of 3.39.
O'Neill led the league at least once in most hitting categories, including batting average in 1887 (.435) and 1888 (.335). During the 1887 season, bases on balls were counted as hits, which inflated O'Neill's batting average as reported at the time to .492 (scored regularly, O'Neill hit .435). In 1887, O'Neill won the only hitting triple crown in American Association history, hitting .435 with 14 home runs and 123 RBI.
The award presented to the top Canadian baseball player of the year, as selected by the Canadian Baseball Hall of Fame, is called the Tip O'Neill Award. Former Speaker of the House and U.S. Representative Thomas P. "Tip" O'Neill was nicknamed after him in his youth.
O'Neill was president of the Western League until his death in 1915.