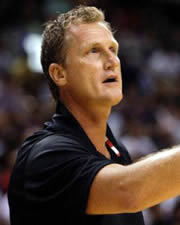 Leo Rautins was born on March 20th, 1960, and spent his formative years in Toronto, Ontario.
His basketball career began at St. Michael's College School, where his talent developed enough to become, at 16 years old, the youngest player ever to earn a spot with the Canadian National Team. He later attended the University of Minnesota, earning recognition as a member of the Big-Ten Conference Rookie First-team.
After transferring to Syracuse University, Rautins became the first Big East player ever to record a triple-double — which he did twice in a month. Leo was also the first Canadian basketball player to be drafted in the first-round of the NBA Entry Draft, chosen by the Philadelphia '76ers in 1983. While his NBA career was brief, Rautins played professionally until 1993.
Rautins started preparations for a post-playing career in 1984, broadcasting Olympic coverage with CBC. He served as head coach of the Canadian National basketball team from 2005 to 2011. He is now a key member of the Toronto Raptors broadcasting team. His playing legacy left a path of hope for Canadians with NBA dreams.