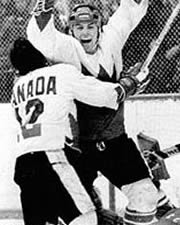 For a series of moments, each more incredibly wonderful than the previous, Paul Henderson was pretty much a no-brainer for the 2012 Heritage Award.
On Sept. 22, 1972, game 5 of the epochal eight-game Canada-USSR hockey series was played in Moscow. Henderson scored a couple of goals, the second with five minutes gone in the third to give Team Canada the 4-1 lead that would surely …
Oh.
Never mind.
The Soviets scored four times in a twinkling and this Summit Series suddenly and sadly seemed toast.
Two nights later, Dennis Hull, Yvan Cournoyer and Henderson each scored in an 83-second, second-period flurry that Canada insisted stand up for a 3-2 win. And renewed hope. Then, in game 7 on Sept. 26, going on two minutes left in a 3-3 tie, Henderson, initially confronted by three Soviet defenders at the blueline, ended up with probably the prettiest goal of the tournament. And, shortly afterwards, this comment: "I sat there after the game and said, 'I will never score a bigger goal than this in my life and I can die a happy man.'" So what did he know?
On Sept. 28, in the series finale, Canada trailed 5-3 heading into the third period. They bounced back to tie the score 5-5 closing in on the final 34 seconds …. Well, if you don't know, we're not going to tell you. But this was Foster Hewitt: "Here's a shot. Henderson made a wild stab for it and fell. Here's another shot … right in front … they score! … Henderson has scored for Canada!" And that's heritage.
In the first few years after the goal that made him a national hero for all time, Henderson had a tough time dealing with the incessant adulation, the endless expectations. Becoming Born Again in 1975, though, helped Henderson handle life and a skirmish with lymphocytic leukemia with strength, clarity of vision and peace of mind.
Or as he explained in a terrific piece by Tom Walls in a recent issue of FYI: "… I'm 69 and I can't think of anyone I'd rather be in the world. I'm so fortunate, even full of cancer. The Lord expects us to enjoy our lives. He says there will be some brutal times, but we shouldn't get all bent out of shape about it."