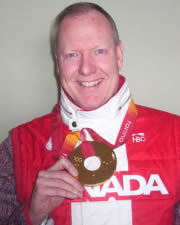 Russell W. "Russ" Howard, (born February 19, 1956 in Midland, Ontario) is a Canadian curler and Olympic champion, based in Moncton, New Brunswick, but originally from Midland, Ontario. His home club in Moncton is Curling Beausejour. Known for his gravelly voice, Howard has been to the Brier 14 times (8 as Ontario, 6 as New Brunswick), winning the title twice (both as Ontario). He is also a 2-time world champion, winning in 1987 and 1993. He has also participated in two Canadian Mixed Curling Championships.
In 2005, he called the shots for Brad Gushue's team at the Canadian Olympic Trials, while he threw second rocks. Howard, along with Gushue (who throws last rocks), lead Jamie Korab and third Mark Nichols went on to win the trials, giving them the right to represent Canada at the 2006 Winter Olympics, where they won the gold medal, defeating Finland 10-4 in the final match. The gold medal was the first time that a Canadian team had won the gold medal for men's curling. Howard, who turned 50 during the Olympics, is also the oldest Canadian to win an Olympic gold medal. The oldest person ever to win a gold medal was Robin Welsh, aged 54, who won gold at curling in the 1924 Winter Olympics.
As a skip, Howard has been in four previous trials, but never went on to the Olympics. Howard is also the innovator of the "Moncton Rule", which evolved into the "Free Guard Zone", part of international and Olympic rules. This makes his 2006 medal particularly significant, as it is likely that without the excitement this rule adds to the sport it would not have become an Olympic event in the 1990s.
In the 2009-10 curling season, although he played in bonspiels throughout the year, Howard did not curl in the New Brunswick Tankard due to his broadcasting commitments with TSN. Howard has been commentating curling events for TSN since 2001.
In 2006, he was inducted into the New Brunswick Sports Hall of Fame.
As of the end of the 2009 Brier, Russ had appeared in more Briers than any other player (14), and played more games at the Brier than any other player (174).