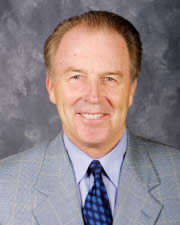 Toronto native Tom Watt's excellent teaching ability led to a successful coaching career at both his collegiate alma matter and at the professional level.
In 15 hockey seasons (1965-79, 1984-85), Tom Watt guided the University of Toronto Blues to 11 OUAA titles and 9 CIAU national championships, including 8 consecutive OUAA titles (1966-73) and 5 consecutive CIAU championships (1969-73). In 1971, he was named the first recipient of the CIAU Hockey Coach of the Year Award.
Watt broke into the NHL coaching ranks as an assistant coach with the Vancouver Canucks in 1980–81. His first NHL head coaching experience came with the Winnipeg Jets, whom he guided for two-plus seasons (1981 to 1984).
In 1981–82, Watt helped the Jets to a 48-point improvement in the standings, and was named Coach of the Year, winning the Jack Adams Award for his efforts.
He held the positions of head coach and assistant general manager with the Canucks for two seasons beginning in 1985–86. Watt was then an assistant coach with the Calgary Flames from 1988 to 1990, including the Stanley Cup-winning 1989 club.
In 1990, he was hired in as an assistant coach with the Toronto Maple Leafs, and took over as head coach just 12 games into the 1990–91 NHL season. After two seasons behind the Maple Leafs' bench, he served within the Toronto organization as director of professional development in 1992–93 and director of pro scouting in 1993–94.
His career has allowed him to live all over the country, an opportunity for which he is thankful and proud of.