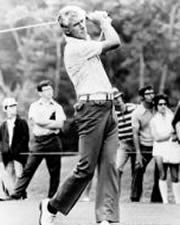 Allan George "Al" Balding (April 29, 1924 – July 30, 2006) was a Canadian professional golfer best known for being the first Canadian to win on the PGA Tour.
Balding was born in Toronto, Ontario. He served in France and Germany as a member of the Canadian Army during World War II. He became a professional golfer in 1950.
Balding began play on the Canadian Tour winning his first two tournaments in 1952. In 1955, Balding became the first Canadian to win a PGA Tour event when he won the Mayfair Open. In 1957, he won three events on the Tour and finished 6th on the money list, the highest of any Canadian at that point.
Balding would go on to win an impressive number of victories in a number of different venues over a long period of time during his career. He won 10 events on the Canadian Tour from 1952 through 1973. He won four tournaments on the PGA Tour. In 1968, he won the World Cup Team Title (with George Knudson) and the Individual Title. Balding played on the Canadian National Team in the World Cup from 1956 – 1970 except in the years 1962, 1965 and 1966. Perhaps his most remarkable win came at the age of 76 when Balding captured the 2000 Canadian PGA Senior Championship. In 2002 during a senior event, Balding shot 66, twelve shots lower than his age, a feat unparalleled in the history of tournament golf according to historians at the PGA Tour.
Balding was named Ontario Athlete of the Year in 1955 and 1957. He was elected to Canada's Sports Hall of Fame in 1968, and the Canadian Golf Hall of Fame in 1984. He was one of the 40 original seniors on the U.S. Senior Tour.
He died in Mississauga, Ontario on July 30, 2006 from cancer.