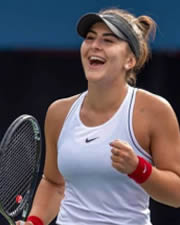 Bianca Andreescu's astronomical rise up the ranks of tennis began with her first WTA tournament victory at the 2019 Indian Wells Masters.
Despite entering the year having not played a WTA match in over 14 months, Andreescu had a breakthrough season that took her from well outside the top 100 into the upper echelon of women's tennis.
Andreescu, 19, from Mississauga, ON began playing tennis in Pitești at the age of seven while living in Romania.
Andreescu has built an impressive resume with her masterful performances in 2019, as the reigning champion at the US Open and the Canadian Open, having defeated Serena Williams to win both titles. She is the first Canadian tennis player to win a Grand Slam singles title, and the first to win the Canadian Open in 50 years. Keeping with the theme of being 'first', Andreescu is also the first teenager to win a Grand Slam singles title since Maria Sharapova in 2006.
Andreescu employs a wide variety of shots into her style of play that is set apart by the level of power that she incorporates into her game.
At year's end, Andreescu's results led to her being awarded the Lou Marsh Trophy, given annually by a panel of sportswriters to the person deemed Canada's top athlete. She was the first tennis player to receive the trophy. She also received the Bobbie Rosenfeld Award, as The Canadian Press' choice for the country's top female athlete.
Coming off an extraordinary 2019 full of accolades, Andreescu will be adding the 2020 Syl Apps Ontario Athlete of the Year award to her list of accomplishments.