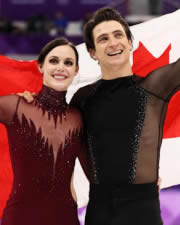 The Canadian ice dancing dynamic duo of Tessa Virtue and Scott Moir made 2018 a year to remember for their fans and admirers.
Partners for two decades, Virtue, from London, Ont., and Moir, from Ilderton, Ont., had been melting hearts since they claimed gold at the 2010 Vancouver Games. They both decided to step away from the sport for two seasons after their silver in Sochi. They returned with a single-minded focus on gold in South Korea.
The duo were among the Pyeongchang Olympics Games' most popular athletes. Fans swooned to their chemistry and lapped up their connection on and off the ice.
A world record total score led to a third gold medal, making the Canadian ice dance darlings the most decorated figure skaters in Olympic history. Virtue and Moir perfectly executed a golden plan they'd announced to mixed reviews when they'd returned to the sport 18 months earlier.
Virtue and Moir held a slim lead over Gabriella Papadakis and Guillaume Cizeron of France after the short dance despite the fact Papadakis skated most of the program with the clasp of her dress broken.
On the second night, when Papadakis and Cizeron recorded a world record in the free dance, Virtue and Moir were waiting in the wings with fingers in ears. They purposely didn't look at any television monitors.
Then Virtue, in a gauzy backless red dress, and Moir, channelling his inner Ewan McGregor, brought the crowd to its feet with their breathtaking performance to music from "Moulin Rouge," a movie they'd loved ever since they saw it together as kids.