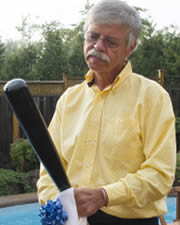 Bob Elliott (born September 10, 1949 in Kingston, Ontario) is a Canadian sports columnist who has covered baseball in Canada since the 1978 Home Opener for the Montreal Expos, when he was employed by the Ottawa Citizen. He covered the Expos until 1987, when he moved to Toronto, Ontario and has covered the Toronto Blue Jays since then. As of 2016, he is a columnist for the Toronto Sun.
He was written three books, including Hard Ball about George Bell, in 1990; The Ultimate Blue Jays Trivia Book, in 1993; and The Northern Game: Baseball The Canadian Way, in 2005. Elliott is also the mind behind the Canadian Baseball Network website, which tracks all active Canadian baseball players.
Elliott was awarded the Canadian Baseball Hall of Fame's Jack Graney Award on December 17, 2010. His grandfather, Chaucer Elliott, is a member of the Hockey Hall of Fame. On December 6, 2011, he was named recipient of the 2012 J. G. Taylor Spink Award by the National Baseball Hall of Fame and Museum. On February 4, 2015, Elliott was elected to the Canadian Baseball Hall of Fame.