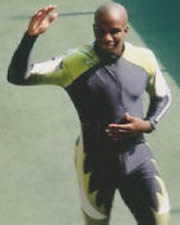 Donovan Bailey (born December 16, 1967) is a retired Canadian sprinter who once held the world record for the 100 metre race following his gold medal performance in the 1996 Olympic Games. He was the first Canadian to legally break the 10-second barrier in the 100 m.
Born in Manchester in 1967, Jamaica, Bailey emigrated from Jamaica to Canada at age 13, and played basketball before his graduation at Queen Elizabeth Park High School in Oakville, Ontario. He began competing as a 100 m sprinter part-time in 1991, but he did not take up the sport seriously until 1994.
At the 1995 World Track & Field Championships in Gothenburg, Sweden, Bailey won both the 100 metre sprint and the 4 x 100 metre relay titles.
As a precursor to the centennial Olympics being held in Atlanta, Bailey broke the indoor 50 m world record during a competition in Reno, Nevada in 1996. He was timed at 5.56A seconds. Bailey repeated the "double" at the 1996 Atlanta Olympics, setting a world record of 9.84s 0.7 m/s wind in the 100 m (the previous record was set in July 1994 by American Leroy Burrell at 9.85 seconds). Many Canadians felt his victory restored the image of Canadian athletes, which had been tarnished by Ben Johnson's previous disqualified win at the 1988 Summer Olympics in Seoul. Bailey was the second person to hold all the major titles in the 100 m concurrently (World Champion, Olympic Champion & World Record Holder). Bailey won a third world title in 1997 with the Canadian relay team, while finishing second in the 100 m behind Maurice Greene.
After the 1997 season, Bailey ruptured his Achilles tendon during the post season 98; effectively ending his career. He made a second attempt in the 2000 Summer Olympics for Olympic glory but suffered from pneumonia and dropped out during the rounds. He retired from the sport in 2001, having been a five-time World and Olympic champion.