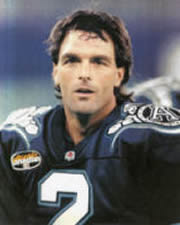 Douglas Richard "Doug" Flutie was born in Maryland on October 23, 1962. While attending high school in Massachusetts Doug was an All-American in football, basketball and baseball. Since 1984 Doug's name has been synonymous with excellence in both college and professional football. During this time Doug earned many honors including: All-American at Boston College, 1984 College Football Player of the Year and Heisman Trophy Winner. Doug was a marquee attraction in the Canadian Football League for eight years with the BC Lions, Toronto Argonauts and Calgary Stampeders and was recognised as such by being named the CFL's Most Outstanding Player an unprecedented six of those seasons in addition to three Grey Cup MVP awards. In 1998 Doug joined the National Football League where he established an outstanding record with the Buffalo Bills, San Diego Chargers and New England Patriots. Notably, in 1999 Doug set the Bills' team record for rushing yards by a quarterback and led all NFL quarterbacks with 476 rushing yards. Doug also passed for career-high 3,171 yards. In 2001, at the age of 38, Doug signed a contract with the Chargers to become their starting quarterback and threw for a career best 3,646 yards. After 4 seasons with the Chargers Doug was offered the opportunity to finish his career with his hometown team, the New England Patriots. Doug would only play one season with the Patriots before he retired but in true Flutie fashion he went out with a bang. On New Year's Day 2006, Doug completed the NFL's first "drop kick" for an extra point in 64 years. A fitting bookend to a long, storied career.
A Note from Doug Flutie
I am extremely humbled to be considered for such an incredible honor and to be amongst such prominent inductees. I would like to extend my sincerest gratitude to the Ontario Sport Legends Hall of Fame, the Province of Ontario, as well as the Canadian Football League, especially the Toronto Argonauts football club. I have such fond memories of the eight years I spent in the Canada, and I consider my time with the CFL to be among some of the most enjoyable years in my football career. A special thank you goes to my family, friends, and colleagues, each of whom have inspired me to pursue my dreams in their own unique ways. Once again, I am extremely grateful for this very prestigious honor and I wish that I could be there in person to accept. Thank you for honoring both me and my passion for football.

Doug Flutie