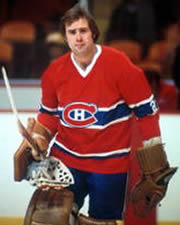 Kenneth Wayne "Ken" Dryden, PC, (born August 8, 1947) is a Canadian politician, lawyer, businessman, author, and former NHL goaltender. Dryden is married with two children and four grandchildren and is a member of the Hockey Hall of Fame. He was a Liberal Member of Parliament from 2004-2011.
Dryden pursued a Bachelor of Arts degree at Cornell University, where he also played hockey until his graduation in 1969. At Cornell, Dryden led his team, the Cornell Big Red, to the 1967 National Collegiate Athletic Association championship and three consecutive ECAC tournament championships.
Dryden made his NHL debut in 1971 for the Canadiens, playing only six regular-season games after a late-season call-up but sporting a minuscule 1.65 goals-against average. This earned him the number 1 goalie job for the playoffs and the Canadiens rode their hot young goalie to win the Stanley Cup. He then became the backbone of 5 more Stanley Cup-winning teams in 1973, 1976, 1977, 1978, and 1979.
During that first playoff season, Dryden won the Conn Smythe Trophy (1971), as the playoffs' most valuable player. The following year Dryden won the Calder Trophy, 1972, as the Rookie of the year. In the autumn of 1972 Dryden played for Team Canada in the 1972 Summit Series against the Soviet national ice hockey team.
His regular season totals include a .790 winning percentage, a 2.24 goals against average, and, most incredibly, winning 258 games and losing only 57 games while recording 46 shutouts in just 397 NHL games.
Dryden was inducted into the Hockey Hall of Fame in 1983. His #29 was retired by the Canadiens on January 29, 2007.
After retiring from hockey Dryden became a dedicated author for a time. His book The Game (1983, ISBN 0-470-83355-6) was a commercial and critical success, being nominated for a Governor General's Award.