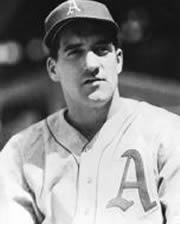 Philip Joseph Marchildon, aka Philip "Babe" Marchildon (October 25, 1913 – January 10, 1997) was a Canadian Major League Baseball pitcher. Born in Penetanguishene, Ontario, Marchildon pitched 1,214 innings with a record of 68 wins and 75 losses and a career ERA of 3.93 on the Philadelphia Athletics and the Boston Red Sox from 1940 to 1942 and from 1945 to 1950.
During World War II he served in the Canadian Air Force as a tail gunner. He was a prisoner of war for nine months.
Marchildon was inducted into the Canadian Baseball Hall of Fame in 1983. He died in Toronto in 1997 at age 83.