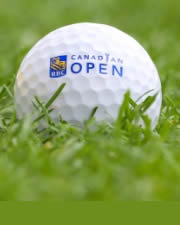 The RBC Canadian Open is a professional golf tournament in Canada. It is co-organized by Golf Canada (formerly known as the Royal Canadian Golf Association) and the PGA Tour.
It was first played 116 years ago in 1904, and has been held annually since then, except for during World War I and World War II. It is the third oldest continuously running tournament on the tour, after The Open Championship and the U.S. Open. It is the only national championship that is a PGA Tour-managed event.
Glen Abbey Golf Club of Oakville, Ontario has hosted 30 Open Championships (1977–79, 1981–96, 1998–2000, 2004, 2008–09, 2013, 2015-2018), and has crowned 24 different champions. Glen Abbey was designed in 1976 by Jack Nicklaus for the Royal Canadian Golf Association, to serve as the permanent home for the championship. The 11th hole at Glen Abbey is widely considered its signature hole, and begins the world-famous valley sequence of five holes from 11 to 15.
In the mid-1990s, the RCGA decided to move the championship around the country, and continues to alternate between Glen Abbey and other clubs. A Canadian has not won the RBC Canadian Open since Pat Fletcher in 1954.
The championship has for the most part been held in Ontario and Quebec, between them having seen all but nine Opens. New Brunswick had the Open in 1939, Manitoba in 1952 and 1961, Alberta in 1958, and British Columbia in 1948, 1954, 1966, 2005 and 2011.