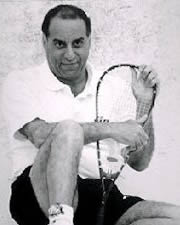 Sharif was born in Pakistan, and is the son of the legendary squash player Hashim Khan. Sharif settled in Canada in 1968, and came to dominate the professional hardball squash circuit for well over a decade.
He captured every major North American hardball title, and won the North American Open (the most prestigious hardball title at the time) a record 12 times in 13 years between 1969 and 1981 (he reached the final 15 consecutive times between 1968 and 1982).
He also won the US Professional Championships nine times in ten years between 1970 and 1979. In winning his final North American open title in 1981, Sharif beat his younger brother Aziz Khan in the final.
In 2004, Khan became the first non-US citizen to be inducted into to the United States Squash Racquets Association Hall of Fame.