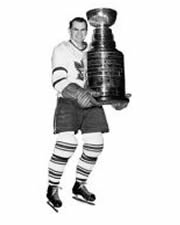 Charles Joseph Sylvanus "Syl" Apps, CM (January 18, 1915 – December 24, 1998) of Paris, Ontario, was a Canadian pole vaulter and professional hockey player for the Toronto Maple Leafs from 1936 to 1948 and a Conservative Member of Provincial Parliament in Ontario.
Athletic career
Apps was a strong athlete, 6 feet tall, weighing 185 pounds, and won the gold medal at the 1934 British Empire Games in the pole vault competition. Two years later he represented Canada at the 1936 Olympics in Berlin, Germany, where he placed sixth in the pole vault event. After watching him play football at McMaster University, Conn Smythe signed Apps to play hockey with the Toronto Maple Leafs. Apps played centre position with the Toronto Maple Leafs for his entire professional hockey career. His jersey number was 10. He was the winner of the first Calder Trophy in 1937, and the 1942 Lady Byng Memorial Trophy. Apps served as the Maple Leafs captain during the first National Hockey League All-Star Game October 13, 1947, at Maple Leaf Gardens. He also played for an all-star team competing in Montreal on October 29, 1939, to raise money for Babe Siebert's family. Apps retired from the NHL at the age of 33 and took a marketing job with the Simpson's department store. At the same time, he also served as the Ontario Athletic Commissioner.
Politics
While still playing hockey, Apps ran for parliament in the 1940 federal election. He was a candidate in the riding of Brant for the National Government Party but lost to incumbent George Ernest Wood of the Liberals by 138 votes. Apps was a Progressive Conservative member of the Legislative Assembly of Ontario from 1963 to 1975. He represented the riding of Kingston from 1963 to 1967 and Kingston and the Islands from 1967 to 1975. He served as the Minister of Correctional Services from 1971 to 1974. Apps died in 1998 and was buried in Cambridge, Ontario.