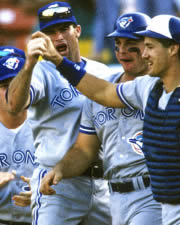 The 1992 Toronto Blue Jays season was a season in Major League Baseball. It involved the Blue Jays finishing first in the American League East with a record of 96 wins and 66 losses, closing the season with an attendance record of 4,028,318.
In the American League Championship Series, the Blue Jays defeated the Oakland Athletics in six games. In the World Series, Toronto faced the Atlanta Braves, who had won their second straight National League pennant. However, the Blue Jays once again prevailed in six games, becoming the first non-U.S.-based team to win a World Series.
Despite their post-season success, the Blue Jays had many ups and downs during the regular season. The Jays started off winning the first six games of the regular season and Roberto Alomar was named the AL Player of the Month for the month of April.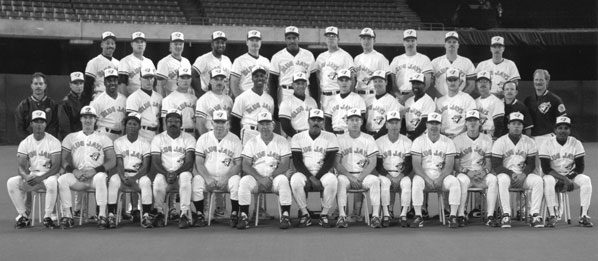 On August 25, they had lost six of their last seven games and were only two games ahead of the Baltimore Orioles in the standings. At this point, general manager Pat Gillick decided to acquire a fiery right-hander from the New York Mets named David Cone. The trade resulted in the Jays sending minor league prospect Ryan Thompson and utility infielder Jeff Kent to the Mets. The deal sent the message that the Blue Jays were committed to winning. Cone would have 4 wins, 3 losses and a 2.55 ERA.
The regular season also marked the end of the road for Dave Stieb, who made his last start for the Blue Jays on August 8 and only lasted three innings. On September 23, Stieb announced that he was finished for the season. 1992 was Stieb's final season for the Jays before briefly coming out of retirement years later.
Four days later, on September 27, Jack Morris would make club history by becoming the first pitcher in franchise history to win 20 games in a season. Morris would have to wait through a two hour rain delay at Yankee Stadium to get the win.
Heading into the last weekend of the season, only the Milwaukee Brewers were still in contention. Led by manager Phil Garner, the Brewers had won 22 of 29 games since August 29. The Brewers trailed the Blue Jays by 2 games, and the Jays were heading into a weekend series vs. the Detroit Tigers. On October 3, Juan Guzmán had a one-hitter through eight innings and Duane Ward picked up the save as the Jays won the game 3-1 and clinched the American League East Division title.