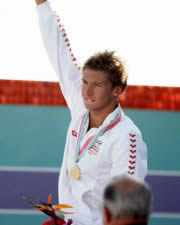 By the time he was seventeen, Alexander (Alex) "Sasha" Baumann owned 38 Canadian swimming records and the world record in the 200 metre individual medley. He won gold medals in both 200 and 400 metre individual medley events at the 1982 Commonwealth Games in Brisbane, Australia, lowering his world record in the 200-metre event to 2:02.25 in the process.
At the 1984 Olympics, Baumann was selected as Canada's flagbearer for the opening ceremonies. He won gold medals in the 400-metre individual medley, setting a world record time of 4:17.41, and the 200-metre race, lowering the world mark to 2:01.42. The 400-metre gold was Canada's first in swimming since 1912.
He was named Canada's male athlete of the year for 1984 and was made an Officer of the Order of Canada. He was also named as the Male World Swimmer of the Year by Swimming World magazine in the same year. In 1988, he was awarded the Order of Ontario.
Baumann won three more gold medals at the 1986 Commonwealth Games in Edinburgh in the two individual medley events and swimming anchor on Canada's 4 × 100 m medley team.
Alex was born in Prage ( former Czechoslovakia) April 21st 1964, moving to Canada in 1969, and became involved in competitive swimming, training at Laurentian University.
Baumann moved to Australia to enter graduate studies at the University of Queensland before becoming manager of sport programs with the Queensland Academy of Sport between 1996 and 1997. He then held various positions with the Queensland Government before becoming CEO of Queensland Swimming in 1999.
In March 2009, Baumann swam at the Ontario Masters Swim Championships. It was his first swim meet in 22 years. He continued were he left off, beating the world record in the 200 metre individual medley in the 45-49 age group category by more than 3.3 seconds with a time of 2:12.01.
Baumann is married to Tracey Taggart, an Australian swimmer he met during the Brisbane 1982 Commonwealth Games. They married on 30 April 1988, and have two children.