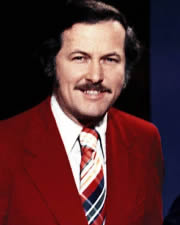 Brian McFarlane (born August 10, 1931 in New Liskeard, Ontario) is a Canadian television sportscaster and author. He is also the Honorary President of the Society for International Hockey Research. He is the son of the prolific writer Leslie McFarlane who wrote many of the early Hardy Boys books. Brian McFarlane attended St. Lawrence University in Canton, New York, on a hockey scholarship, graduating in 1955. In his four years he scored 101 goals for the Skating Saints, which remains a St. Lawrence record. On three occasions, he scored five goals in a game, a school record shared with several others. After graduating, he worked in television at WRGB in Schenectady, New York, before moving to CFCF-TV in Montreal, Quebec (where he was sports director) and CFTO in Toronto, Ontario. He had a lengthy career in broadcasting and journalism.
National Hockey League broadcasting
He is perhaps best known as a commentator on Hockey Night in Canada for 25 years. He made similar broadcasts on NHL games for the major American networks CBS and NBC and has written more than 50 books on hockey. McFarlane is an expert on hockey history and has compiled several volumes of NHL lore titled "It Happened in Hockey," as well as a 1999 series detailing the colorful history of the Original Six NHL teams. His memoirs, published by Stoddart Publishing in 2000, are entitled Brian McFarlane's World of Hockey.