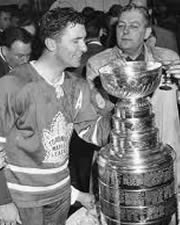 Andrew James Bathgate (born August 28, 1932) Andy Bathgate was a popular star player of the New York Rangers and also holds the honor of being declared the MVP of both the NHL and WHL.
He played 17 seasons in the National Hockey League for the New York Rangers, Toronto Maple Leafs, Detroit Red Wings and Pittsburgh Penguins.
He started his professional career with the Cleveland Barons of the AHL in the 1952–53 season. He bounced between the Vancouver Canucks and the Rangers for two seasons before settling with the Rangers in 1954–55. He played 10 full seasons with the Rangers, where he became a popular player in New York as well as a top-tiered player in the NHL.
Andy Bathgate won the Hart Memorial Trophy for the MVP of the NHL in 1958–59 after scoring 40 goals, which was no easy feat in that era. He is famous for contributing to one of the greatest innovations in NHL history. Renowned for the strength of his slapshot, during a game against the Montreal Canadiens, Bathgate shot the puck into the face of Jacques Plante, forcing Plante to receive stitches. When Plante returned to the ice, he was wearing a mask. That started a trend that continues to this day.