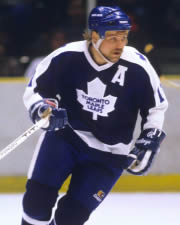 Wendel Clark (born October 25, 1966) perhaps best known for being a member of the Toronto Maple Leafs of the National Hockey League (NHL), captaining the team from 1991 to 1994. During this time, he was often referred to as "Captain Crunch," as he played a very physical and intense style of hockey.
Clark was selected first overall by the Toronto Maple Leafs in the 1985 NHL Entry Draft. His professional career lasted from 1985 until 2000, during which time he played for the Maple Leafs (during three separate stretches), Quebec Nordiques, New York Islanders, Tampa Bay Lightning, Detroit Red Wings and Chicago Blackhawks.
Clark was known for his physical play and his offensive mind combined with scoring prowess. After his rookie season, he was named to the NHL All-Rookie Team and finished third in voting for the Calder Memorial Trophy. He was a crowd favourite at Maple Leaf Gardens and won a place in the hearts of Leaf fans as he provided a spark and was named captain of the team for the 1991–92 season.
Throughout his career, Clark fought all the league's toughest players, quickly gaining a reputation as a feared pugilist. Despite his size, Clark more than held his own against much larger opponents, showing a ferocity seldom matched throughout the league.
Post Retirement, Clark is now employed by the Toronto Maple Leafs Hockey Club as a community ambassador and public relations. The Toronto Maple Leafs honoured the former captain by raising his legendary number 17 to the rafters on November 22, 2008.