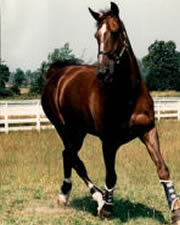 The story of Big Ben, like many heroes, had a modest beginning. Often overlooked as a horse that was simply too big to win, equestrian Ian Millar's foresight and belief in Ben made this legendary partnership come to fruition. Ian came upon Ben by chance while visiting his now long-time friend Emile Hendrix in Holland.
Mr. Hendrix had heard of the horse, a then seven year old Belgian bred warmblood. He said to Ian, "You know there's a horse… I don't know whether you would like him or not… It might be a total waste of time. But there's a chance you might find it interesting too." For some reason Ian knew almost immediately that this was a horse that he had to have.
Ben arrived in North America shortly thereafter and proved that he was a very special horse. Ian partnered with Ben at the 1984 Los Angeles Olympic Games just 10 months after they began what would become a legendary partnership.
Big Ben's career spanned nearly a decade, winning many prestigious events in varied conditions and circumstances. Ben won everything – World Cup finals indoors, derbies in big fields outdoors, on grass, sand, mud, in wind, sunshine, rain, hail, against all odds, and when he was the clear favourite. Big Ben did not disappoint.
Through his life Big Ben battled adversity, like so many heroes, and always managed to come out stronger and more focused. Two colic surgeries and even a highway tractor trailer accident didn't manage to hold Ben down for long.
His ability to overcome such obstacles, both on course and off, endeared him to so many people across the globe, and his fan base grew with every class he won. When competing in Europe the Canadian duo of Ian Millar and Big Ben would often draw more fans and spectators to an event than any other horse or rider. And Ben would always return the favour. Spending countless hours with his groom Sandi Patterson, Ben would greet fans and admirers from his stall at horse shows, even offering a hoof print autograph from time to time.
Big Ben is a legend. He is a hero to many. He has touched so many lives and meant so much to so many people. He will forever be remembered as a cornerstone of show jumping.