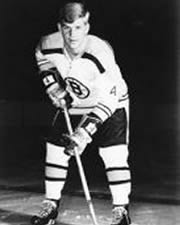 Robert Gordon "Bobby" Orr, (born March 20, 1948) is a retired ice hockey player. A defenceman, he is considered to be one of the greatest hockey players of all time. He played his National Hockey League (NHL) career with the Boston Bruins, with the exception of two brief seasons with the Chicago Black Hawks.
Orr won two Stanley Cup championships with the Bruins when Boston defeated the St. Louis Blues in the 1970 Stanley Cup Finals in four games and the New York Rangers in the 1972 Stanley Cup Finals in six games, scoring the clinching goals in both series, and was awarded the Conn Smythe Trophy as the playoff MVP both years. He also led Boston to the 1974 Stanley Cup Finals where they were defeated by the Philadelphia Flyers in six games. Winning a record eight Norris Trophies as the league's best defenceman, Orr is often credited for revolutionizing his position. He remains the only defenceman to have won the league scoring title with two Art Ross Trophies and holds the record for most points and assists in a single season by a defenceman.
Orr retired having scored 270 goals and 645 assists in 657 games, adding 953 penalty minutes. At the time of his retirement, he was the leading defenceman in league history in goals, assists and points, tenth overall in assists and 19th in points. The only players in league history to have averaged more points per game than Orr are Wayne Gretzky, Mario Lemieux and Mike Bossy.
Orr inspired the game of hockey with his command of the two-way game, which was unique for a defenceman. Defencemen with goal-scoring ability were not common in the NHL before his arrival. Orr was unique in that he could score goals as well, and he influenced countless defencemen who followed him. His speed, most notably a rapid acceleration, and his open-ice artistry electrified fans as he set almost every conceivable record for a defenceman. In contrast to the style of hanging back defensive play common in the later 1950s and 1960s, Orr was known for his fluid skating and end-to-end rushing. Orr's rushing enabled him to be where the puck was, allowing him not only to score effectively but also defend when necessary. According to longtime Bruins coach and general manager Harry Sinden, "Bobby became a star in the NHL about the time they played the National Anthem for his first game with us."
Orr also benefited from playing most of his career in Boston Garden, which was nine feet (2.7 m) shorter and two feet (0.6 m) narrower than the standard NHL rink. This suited his rushing style very well, as he was able to get from one end of the ice to the other faster than in a standard rink.
His style of play was also hard on his knees and shortened his career. "It was the way I played," Orr has said. "I liked to carry the puck and if you do that, you're going to get hit. I wish I'd played longer, but I don't regret it." Orr stated in 2008. "I had a style — when you play, you play all-out. I tried to do things. I didn't want to sit back. I wanted to be involved."
The NHL waived the mandatory three-year waiting period for induction into the Hockey Hall of Fame and he was enshrined at age 31—the youngest player ever to be inducted, and one of only ten players to get in without having to wait three years. "Losing Bobby", said Gordie Howe, "was the greatest blow the National Hockey League has ever suffered." One of Orr's lasting legacies is that his popularity helped to cement the expansion of the NHL in America. His number 4 jersey was retired by the Bruins in January 1979. At the ceremony, the crowd at Boston Garden would not stop applauding and as a result, most of the evening's program had to be scrapped at the last second owing to the constant cheering.
He has been honoured with his name recorded on Canada's Walk of Fame. A museum exists in his honour in his hometown of Parry Sound called the Bobby Orr Hall of Fame. In 1979, he was made an Officer of the Order of Canada.