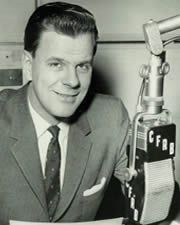 Brian Williams, whom Canadian have welcomed into their homes all these many Olympics, is obviously honoured that the Ontario Sports Hall of Fame's media award has been named for him.
He is doubly honoured, though, that the first recipient is his long-time friend and mentor, the truly legendary Bill Stephenson.
"That seriously means everything to me," said Williams from some airport out west. "So much of what I have, so much of what's come my way, is due to the opportunities Bill Stephenson gave me."
We asked Williams if anything came to mind in terms of, say, words of wisdom he'd ever received from Stephenson. Williams immediately came up with a couple of examples.
He recalled, for instance, once using the word "we" in referring to some team in some game report. Stephenson took him aside.
"Bill told me, 'You're a journalist. You're not part of the team. There always has to be that separation between you and the athlete.'"
Another time, another report … "I guess I said something like, 'I think such and such just happened,'" said Williams. And Stephenson took him aside.
"Bill said, 'Look, it either happened or it didn't. Always be secure, always be sure. You're the expert.'"
Which was pretty much the way Stephenson always handled it, very possibly since taking his first radio gig in 1948 at CJAV in Port Alberni, B.C. From there, it was a quick hop to sports director at Vancouver's CKWX where he wound up play-by-play man for the B.C. Lions, among many others.
In 1960, the Saskatchewan-born Stephenson took his warm, soothing baritone to Toronto's CFRB, where he settled in for over four decades, early on as the voice of the Argonauts, not to mention sports director. He went on to patrol the sidelines for CTV's football coverage for some 15 years and, before long, his voice had become synonymous with the CFL football.
There'd be plenty of Stanley Cups and many world hockey championships, too. But it was as sports director that Stephenson pulled off some true pioneering, establishing the country's first radio sports department and elevating the genre from the mere reporting of scores to substantial programming in its own right.
He was named to the CFL Hall of Fame in 1988 and to the Canadian Broadcast Hall of Fame in 2006. And, along the way, he advised young reports like Brian Williams and Dave Hodge about using "we" in their reporting.