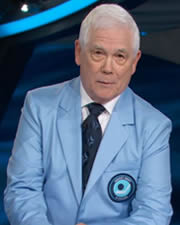 No doubt Dave Hodge will have a few words to say about Brian Williams and Bill Stephenson this afternoon. This trio goes way back – with the accent on "way."
Williams, of course, for whom this Ontario Sports Hall of Fame's media award is named, is the guy who sets up in your living room every Olympics.
A year ago, he was delighted when the first recipient turned out to be Stephenson, his old friend and mentor. Today, he's doubly tickled that Hodge, another old friend and mentor, is aboard to complete the circle.
Stephenson, turns out, had hired both for his pioneering sports department at Toronto's CFRB – Williams in 1973; Hodge, five years earlier. Hodge and Williams each wound up in the other's wedding party in '74 and the families remain close to this day.
"One of my closest friends and a great professional," Williams was saying of Hodge a week or so back.
"He was never a cheerleader … was always able to separate himself from the event. And, while he's a great broadcaster, I'm not sure people realize what a great writer he is, too. He's always had this great respect for the written word."
A big fan of Sunday morning TV, Hodge is now doing exactly that with TSN's The Reporters with Dave Hodge. Actually, Oct. 7 will mark the program's 10th anniversary. He appreciates the casualness inherent in the concept.
"It's probably as enjoyable as anything I've ever done," said Hodge. Which is saying an awful, awful lot. Hodge, Montreal-born has basically been a Toronto guy since age 10, although started out in Chatham – as a sportswriter in 1965, then the following year, as sports director for Chatham's radio CFCO.
CFRB came calling in 1968 and he was plugged in there through '86, managing radio play-by-play for the Toronto Argonauts (1974-80) as well as TV play-by-play for the first-season Buffalo Sabres in 1970-71.
His face became familiar coast-to-coast when he turned up as host for the CBC's Hockey Night in Canada in 1972 – a gig that lasted until the night of March 14, 1987, and his historically indignant flip of a pen.
No hard feelings there Hodge assured. But also no regrets. Post-CBC, he spent some five years in Vancouver as, among other things, sports director at CKNW radio and play-by-play voice for the CFL network. He did play-by-play for the Minnesota North Stars in 1991, then moved to TSN in '92. Summing things up nicely in 2006 was a lifetime achievement award from Sports Media Canada. "He was never afraid to take a stand," said Williams. "He's had a great career because he's done it all with integrity."