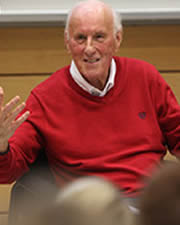 Ralph Mellanby was born in Hamilton Ontario on August 22nd 1934, but his father's new job as editor of the Windsor Star took the family to Essex County, where Ralph went to Essex District High School. He then went to Wayne State in Detroit, where he took one semester a year while playing professional baseball. At Wayne, Ralph was working on a degree in communications, and worked part-time as a prop boy at CKLW-TV in Windsor. He graduated from Wayne in 1958 with a B.A. in Communications, by which time he had worked his way up at CKLW to stagehand, cameraman and then floor manager.
In 1960, he moved on to WGN Chicago as a sports production assistant, and had his first opportunity to direct football and baseball. At this time, new television licences were being granted in Canada. Bud Hayward, President of newly-licensed CFCF-TV in Montreal, received a call in late 1960 from an ad agency friend in Chicago, telling him he should think about hiring a talented young Canadian producer who was making a name for himself in the Windy City. When CFCF-TV went on the air in January 1961, Ralph Mellanby was on staff, hired to direct not only CFL Football, but anything else thrown at him. In 1963, CTV began broadcasting Wednesday night NHL hockey games, and Ralph was assigned to direct both Montreal Canadiens and Toronto Maple Leafs games.
In 1966, CTV's Montreal Production Supervisor Pip Wedge asked Ralph to take over direction of B.A. Musical Showcase, a musical variety program with a game show component. While still a sports producer at heart, Ralph found he enjoyed working with musical and performing talent, and directing scripted productions. It was this experience of 'showbiz' that made Ralph a logical candidate when Hockey Night in Canada exec Frank Selke Jr. was looking for.
The combination of Ralph's sports experience and his newly acquired flair for show business enabled him to bring many creative ideas to Canada's television hockey coverage and fully justified CSN's confidence in him. In 1968, after two years on CSN's staff, Ralph negotiated a new non-exclusive ten-year contract to continue work on hockey for CSN, while being able to do other things that did not interfere with his hockey responsibilities. Ralph remained involved with Hockey Night in Canada for twenty years. Thirteen of the key on-air and production personnel he hired during that time were subsequently inducted into the Hockey Hall of Fame.
Ralph's sports expertise earned him extensive involvement in Olympic Games coverage, starting with his direction of hockey at all the Winter Olympics from 1976 in Innsbruck to Lillehammer in 1994. In 1985 he was hired by CTV to start work on preparations for CTV's Host Broadcaster role in the production of the Winter Games in Calgary in 1988. In 1989 he formed his own company, Ralph Mellanby Associates, to handle several sports productions for CTV. He was senior producer at the Barcelona Summer Games in 1992 and the Director of Venue Production in Atlanta for the 1996 Summer Olympics there. He also worked for Turner Broadcasting and ABC as co-Host Broadcaster for the 1991 Pan-American Games in Havana, Cuba in 1991.
Ralph won five Emmy Awards, all for various Olympic Games productions, including his much-lauded coverage of the Miracle on Ice, when the USA won a Gold Medal at the Lake Placid Olympics in 1980. He also won two Kennedy Awards, an Ohio State Award, and a Lifetime Achievement Award from Sports Media Canada. Ralph's other major sports credits include involvement in the production of fifteen Canadian Open Golf Championships and multiple LPGA events, 12 Canadian Open Men's and Women's Tennis Championships, scores of CFL series, playoff and Grey Cup games, and the production of the first Montreal Expos and Toronto Blue Jays baseball games. He was also VP Television for the Canadian Football League for two years, 1989-90.