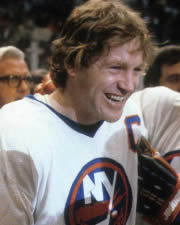 Helping set the tone as the leader of the blueline for the New York Islanders dynasty of the late 1970s and early 1980s era, Denis Potvin was a true commander on the ice.
Potvin surpassed all expectations and became the first NHL defenseman to score 1,000 career points. He was the cornerstone of the franchise's four consecutive Stanley Cup championships from 1980 to 1983.
The Ottawa native had a wealth of natural talent. He excelled on the offensive rush. And he was a tough physical presence in his own end of the rink. He was one of the most complete blueliners to ever step onto the ice.
The leadership qualities demonstrated by Potvin, along with his exceptional talent at both ends of the ice, placed him in a category reserved for only a handful of NHL defensemen.
The talented defenseman distinguished himself on the international stage through his play on Canada's 1976 and 1981 Canada Cup teams. He retired at the conclusion of the 1987-88 season with regular-season totals of 310 goals and 1,052 points. In postseason play, Potvin tallied an additional 56 goals and 164 points during his career.
Potvin was elected to the Hockey Hall of Fame in 1991. The ceremony was held in his hometown of Ottawa for the first time.
The popular Potvin joined the broadcasting ranks post playing career. In 1993, he was hired to add colour to Florida Panthers television broadcasts, remaining until 2009. In 2010, he was hired as an analyst on Ottawa Senators television broadcasts. He returned to the Panthers telecasts in 2014.