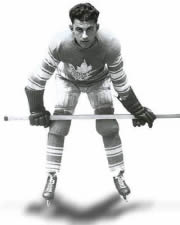 Gentleman Joe Primeau was a playmaking wizard. He centered the 1930s famed "Kid Line" between Busher Jackson and Charlie Conacher. But Primeau got a late start as a hockey player.
Though born in Lindsay, Ontario, Primeau was raised in mild Victoria, British Columbia. Outdoor ice was almost non-existent. Not until his family moved to Toronto did he take up the sport. Hockey was a big part of the Primeau household, but Joe did not learn to skate until almost 13 years old.
Legendary sportsman and businessman Conn Smythe gets credit for discovering Primeau. While Smythe was building the New York Rangers, he brought in Primeau as a prospect. But the Rangers front office felt Primeau, at 5'11" and about 160 pounds, was too small and refused to sign him.
When Smythe was unceremoniously released by the Rangers, he rememberd the slick passing centerman. Smythe later joined the Toronto St. Patricks, a team later re-named to become the Maple Leafs. Signing Primeau was one of Smythe's best moves. Primeau's arrival took a while though, as his game needed polish. Primeau appeared only sparingly in his first two seasons. Most of those two years he spent with the minor league Toronto Ravinas.
Primeau found a permanent spot on the Leafs in 1929-30. The Kid Line appeared and changed hockey history forever. While Jackson and Conacher are remembered for their scoring theatrics, it was Primeau who was the glue of the unit.
Joe Primeau passed away on May 14, 1989 at the age of 83.