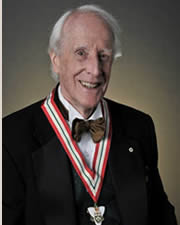 Dr. Frank Hayden, a sport scientist at the University of Toronto, is the official pioneer of the Special Olympics campaign.
In the early 1960s, a group of students at Toronto's Beverley School became the test group for Dr. Frank Hayden. Dr. Hayden was studying the effects of regular exercise on the fitness levels of children with an intellectual disability.
Dr. Hayden's research was recognized as nothing short of groundbreaking. His findings challenged the prevailing mindset of the day – one that claimed that it was the disability itself that prevented children from fully participating in play and recreation. Through rigorous scientific method, Dr. Hayden proved that it was simply a lack of opportunity to participate. Given that opportunity, people with an intellectual disability could acquire the necessary skills to participate in sport and become physically fit.
In summary, Dr. Hayden determined sport could have a transformative effect on the lives of those with an intellectual disability.
Hayden was made an officer of the Order of Canada in 2000 and a member of the Order of Ontario in 2012. A plaque in his honour was unveiled outside his former laboratory in Thames Hall at Western University in 2012.
He has also received the Queen Elizabeth II Golden Jubilee Medal and the Queen Elizabeth II Diamond Jubilee Medal. Dr. Frank J. Hayden Secondary School in Burlington, Ontario was named in his honour in 2013. In 2016, he was inducted into Canada's Sports Hall of Fame.
We are very pleased to recognize Dr. Hayden as the 2019 recipient of the Bruce Prentice Legacy Award.