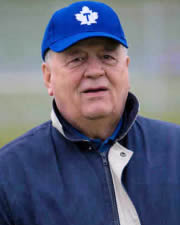 Passion, longevity, and competitiveness are just a few of the attributes that make up Jack Dominico.
Dominico had a background in newspapers. He sold ads for the North Bay Nugget and Etobicoke Guardian. He met his wife Lynne at the Guardian. Their shared love of baseball led to the Toronto Maple Leafs and that little pressbox high atop the hill behind home plate.
The Toronto Maple Leafs are a team of the Intercounty Baseball League, based in Toronto, Ontario. They play their home games on "Dominico Field" at Christie Pits. They are also known colloquially as the Intercounty Maple Leafs or the Intercounty Leafs to disambiguate themselves from the Toronto Maple Leafs hockey team.
The Dominicos made the Christie Pits hillside into a place to enjoy economically friendly entertainment. The phrase "economically friendly" may be an understatement considering no admission is charged to fans for pulling up a patch of grass. It's a business model it seems only Dominico can pull off.
Dominico is passionate in his support of youth baseball and the community surrounding Christie Pits. He has held numerous weekend baseball clinics for those involved in the Toronto Playgrounds House League Baseball program where young players can learn skills from talented players on his Toronto Maple Leafs team.
Since its inception the team has won the Jack and Lynne Dominico Trophy as Intercounty Baseball champions eight times, the first in 1972. During their 2002 championship season, the Leafs were undefeated at home, a league first.
The team was owned by husband and wife Jack and Lynne Dominico for the first 40 years of its existence, but has since been owned exclusively by Jack after Lynne's passing on November 8, 2008.