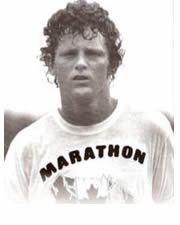 Well, turned out the inaugural decision wasn't really that difficult at all.
On April 12, 1980, a 21-year-old Terry Fox dipped his artificial right leg into the Atlantic Ocean and set out on his Marathon of Hope – one of the most impossibly incredible, heart-breaking, heart-lifting sagas by any Canadian, before or since.
His goal, running roughly an entire marathon each and every day, was to traverse the country to raise $24 million – or a dollar for every Canadian there was at the time – for cancer research.
He ran for 143 days and 5,373 kilometres, shutting things down just outside of Thunder Bay when it was determined the cancer that had taken his leg three years earlier, had returned to assault his lungs. He vowed to return to finish his inspiring endeavor but never did. Terry Fox died in June the following year.
Nobody ever forgot.
Founded in 1981, the Terry Fox Run is an annual, world-wide celebration that involves millions of runners/walkers/wheelers in over 60 countries. While Fox's impact is truly incalculable in terms of the lives he has saved and inspired, and in the number of research awards and grants that rose from his lead, the Runs have raised better than $500 million.
He's a hero, Terry Fox, an indelible part of this country's folklore, its fabric, its heritage, of its very geography, of who we are.