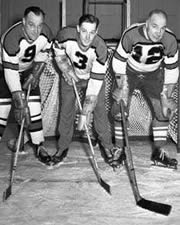 Dubbed the "First Family of Hockey," the Conacher family has a rich history that spans over generations making an impact in the sport.
Before the Richards, Sutters, or Howe siblings, one of the early great brother combinations in hockey was the Conacher family.
There was Charlie Conacher, back in the 1930s and he starred on Toronto's Kid Line with Joe Primeau and Busher Jackson. He was Bobby Hull before Bobby Hull was even born. With his heavy shot they called him The Big Bomber.
Multi-sport star, Lionel Conacher, nicknamed the 'Big Train,'as good as he was at hockey, he was even better at other sports. Lionel was so good at lacrosse, football, wrestling, boxing and baseball he was dubbed Canada's Greatest Athlete. That was later confirmed in 1950 when he was named as Canada's athlete of the first half century.
Lastly, there was Roy Conacher. The youngster played in the 1940s, in the shadows of his brothers. He was a goal scorer who retired in 1952 with 226 goals in 490 games.
All three brothers were enshrined in the Hockey Hall of Fame.
In 1966-67, Brian Conacher, (Lionel's son) made the Leafs on a full time basis. He had a respectable 14 goals and 27 points in 66 games where he was utilized mostly as a role player. Conacher didn't mind, as he was part of the now much celebrated Leafs team that captured the Stanley Cup.
In total six members of the Conacher family played in the NHL and among them they proudly were a part of six Stanley Cup winning teams.