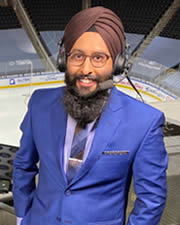 When Harnarayan Singh was a four-year-old living in Brooks, Alberta, he told his parents he wanted to be a hockey broadcaster, like Ron MacLean on Hockey Night in Canada.
Growing up, Singh, would be doing his own commentary of the NHL games, and his family would have to tell him to turn the volume down so they could actually hear what was going on with the television.
Singh, of course, imagined calling games in English, like all the announcers on his television dial. He couldn't have possibly predicted the future: that he'd one day become the ground-breaking voice of Canadian Sikhs, sharing hockey with a far-reaching community of Punjabi-speaking fans across the country.
In 2008, CBC offered Singh a chance to call a Penguins-Red Wings Stanley Cup game in Punjabi, Canada's third most-spoken language, after English and French. The concept was well-received, and the network eventually evolved into a weekly broadcast.
Singh calls games every Saturday on Hockey Night in Canada Punjabi as well as the Stanley Cup Playoffs, alongside a rotating cast of analysts. In 2016, his exuberant call of Penguins center Nick Bonino's game-winning goal in Game 1 of the Finals went viral, opening him up to new audiences.
Singh, an unlikely face in hockey media, has become a success story who's living the Canadian dream.