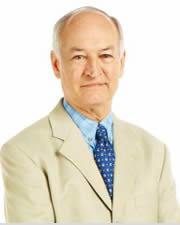 For many in the province of Ontario, the sound of Jerry Howarth's voice means Toronto Blue Jays baseball and a warm summer day.
The York, Pa. native was raised in San Francisco. Howarth began his broadcast career in 1974 with the Tacoma Twins of the Pacific Coast League. The Blue Jays stalwart joined the club in 1981. He broadcasted an estimated 7,500 professional baseball games in his career.
Howarth called Toronto's back-to-back World Series victories in 1992 and 1993 with the late Tom Cheek.
Howarth used a steady, warm, conversational style throughout his long career. Perhaps he is best known for his "There She Goes!" home run call.
Starting at spring training each year, Howarth kept notes in a thick spiral notebook that he kept close at hand throughout the season. His preparation was meticulous. Howarth scored each game using a shorthand all his own.
A man of routine, he would provide consistent refrains while on the air. Howarth weaved stories from his decades in the sport through the broadcast. He often used trademark lines like "He scorrrrres" or "The Blue Jays are in flight" as he called the action.
In 2012, Howarth was awarded the Canadian Baseball Hall of Fame's Jack Graney Award.
Howarth coached high school basketball for 20 years at Etobicoke Collegiate Institute. He is also known for his active support and fundraising efforts on behalf of the Special Olympics.
Howarth, who became a Canadian citizen in 1994, lives in Toronto with his wife Mary. They have two sons, Joe and Ben.