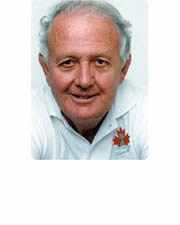 Jim "Shaky" Hunt (9 November 1926 – 9 March 2006) was a Canadian sports columnist who spent over 50 years as a journalist and covered the biggest events in sports including the Stanley Cup, the Super Bowl, the Olympics, all of golf's majors and the 1972 Canada-Russia Summit Series. Hunt was known as "Shaky" thanks to his intramural goaltending career at the University of Western Ontario, where he was part of the school's first journalism graduating class, in 1948.
Born and raised in Sarnia, Ontario, Hunt began his 50-plus years in journalism when he joined the Toronto Daily Star in 1948, working first as a city news reporter.
At the Star's sports department, he worked under Milt Dunnell in 1953 and later the Star's former weekly magazine as sports editor. While with the Star, one challenging assignment saw him smuggling a gun — he opted for a fake one made of wood — in a gun case into Maple Leaf Gardens in 1956 during a Toronto Maple Leafs playoff game against the Detroit Red Wings. The objective for Hunt was to test the Gardens' security. He was able to get past the ticket-takers and the Star ran the picture of him and the gun case on the front page the next day.
Along the way he interviewed a long list of well-known figures in the sports world and outside it. He wrote a biography in the mid-1960s on hockey legend Bobby Hull. It was titled, Bobby Hull: The first million dollar hockey player. He had lunch with Marilyn Monroe and took notes while chatting with Yankee great Mickey Mantle. He also interviewed legendary boxers, Rocky Marciano, Sonny Liston and Muhammad Ali. As well as sharing drinks with Queen Elizabeth II on her private yacht during the Montreal Olympics.
His interview with Ali took place in a midtown Manhattan hotel room prior to Ali's 1964 upset win over Sonny Liston. After telling Hunt what he was going to do to Liston, the young and brash Ali (then known as Cassius Clay) burst into one of his trademark verses. "After I beat Liston I'll be sad, then there'll be no one to make me mad. His book also described what it was like covering the hockey riots in 1955 in Montreal. The incident occurred after the NHL suspended Canadiens great Maurice Richard for attacking a Boston Bruins player with his stick, and later going after a linesman who tried to stop him. Hunt said it was a day he'd never forget, "one of the blackest in the history of hockey".
He moved to CKEY in 1967 as sports director of the AM radio station, eventually becoming news director. Hunt credited the CKEY job with giving him the opportunity to cover the 1972 and 1974 Canada-Russia hockey series.
In 1983, he became sports columnist with the Toronto Sun. He would later co-host a sports program with Bob McCown called Prime Time Sports on Toronto's The Fan 590 radio station while with the paper.