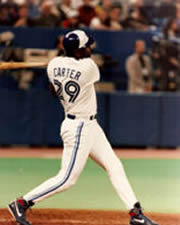 Joe Carter attended Wichita State University, leaving after his junior year. He was named the Sporting News magazine's College Player of the Year in 1981. In the 1981 draft, the Cubs chose him with the second pick of the first round.
Chicago Cubs and Cleveland Indians
Carter first reached the majors in 1983 with the Chicago Cubs, but was then traded to the Cleveland Indians, where he blossomed into a star. Carter emerged as a prolific power hitter, hitting as many as 35 home runs in a season and regularly driving in 100 or more runs.
San Diego Padres
After the 1989 season, Carter was traded to the San Diego Padres for prospects Sandy Alomar, Jr., Carlos Baerga, and Chris James. The Padres subsequently dealt him to the Toronto Blue Jays along with Roberto Alomar in exchange for star players Fred McGriff and Tony Fernández.
Toronto Blue Jays
Joe Carter is a member of the Toronto Blue Jays' Level of Excellence. Carter's overall game improved dramatically in 1991, helping the Toronto Blue Jays win the division title and hitting the game-winning single that clinched the AL East Championship. In 1992, he helped the Jays win their first World Series championship, the first ever won by a Canadian-based team. Carter hit two home runs and recorded the final out of the Series, taking a throw to first base from reliever Mike Timlin to nab Otis Nixon of the Atlanta Braves.
1993 World Series
In 1993, the Blue Jays reached the World Series again, facing the Philadelphia Phillies. In Game 6, with the Blue Jays leading three games to two, Carter came to bat in the bottom of the ninth inning with the Blue Jays trailing 6–5 and Rickey Henderson and Paul Molitor on base. On a 2–2 count, Carter hit a three-run walk-off home run off Phillies pitcher Mitch Williams (against whom he was 0–4 career) to win the World Series, only the second time a Series has ended with a home run (the other being in 1960, when Bill Mazeroski did it), and the only time the home run has been hit by a player whose team was losing. Upon hitting the home run, Carter went into a hysteria, jumping up and down many times most notably rounding first base, where his helmet came off from the dancing. Tom Cheek, radio broadcaster for the Blue Jays at the time, then went on to say "Touch 'em all, Joe! You'll never hit a bigger home run in your life!"
Career statistics
Carter was named to five All-Star teams. In his career he hit 396 home runs and drove in 1445 RBI. He drove in 100 runs in a season ten times, including the 1994 year, which was cut short due to the strike that happened about 110 games into the year. He was the first player to record 100 RBI for three different teams in three consecutive seasons.