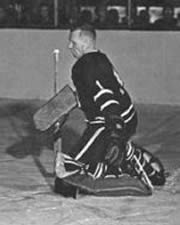 John William "Johnny" Bower (born John Kiszkan on November 8, 1924 in Prince Albert, Saskatchewan), nicknamed "The China Wall", is a Hockey Hall of Fame goalie.
Born in Prince Albert, Saskatchewan, Bower served with the Canadian Army during World War II in England from 1940 to 1943 and was discharged due to rheumatoid arthritis. After the war, Bower returned to Prince Albert in 1943 to play junior hockey in Prince Albert and in the AHL — largely for the Cleveland Barons — for eleven seasons in the late 1940s and 1950s, and proved himself the star goaltender of the circuit, winning numerous awards and leading his teams to three Calder Cup championships.
During his first professional year of hockey, he changed his name from John Kishkan to Bower, to make it easier for sports writers.
He was finally picked up by the New York Rangers of the NHL for the 1953–54 season, but was sent back down to the minor leagues the following season. Bower would toil in the minors four more years in Providence (Reds 1945–1946, 1955–1956 and 1956–1957), Vancouver (Canucks 1954–1955), Cleveland (Barons 1945–1953 and 1957–1958) and then again with the Rangers in 1954–1955, before being claimed by the Toronto Maple Leafs in the 1958 Inter-League Draft. He would play eleven full seasons in all with the Leafs, the remainder of his career.
The height of his NHL career came during the Maple Leafs' three consecutive Stanley Cup victories in the early 1960s — 1962, 1963 and 1964.
After the 1962 victory, Bower complained about Bobby Hull, Chicago Black Hawks left winger and his hard slap shot, improved from that of Montreal Canadiens left-wing Bernie Geoffrion. Bower said, "He needs another shot like I need a hole in the head, which I may get."
His career would be hampered by poor eyesight, but despite that he remained a top-tier goaltender. He was known for his hard-nosed, scrappy playing style and would win another Stanley Cup in 1967 by tandeming with another Hall of Famer (Terry Sawchuk). He is the 2nd oldest goalie to play in the Stanley Cup Final at age 42 years, 5 months, 13 days. Bower claimed, "I wasn't all that glad to see the two-goalie system come in. I wanted to play as many games as I could." But Bower and Sawchuk shared the Vezina Trophy as best NHL netminder in 1964–65. His last full season was 1968–69. In 1969, Johnny became the oldest goaltender to appear in a Stanley Cup playoffs, at 44 years, 5 months, and 28 days. He played a final game in the fall of 1969 and on March 19, 1970, Johnny announced his official retirement – four months after his forty-fifth birthday. When asked, in light of his retirement, if he might reveal his true age, he replied "If you don't know by now, you never will".
His Career statistics include: 552 games played, 250 wins, 195 losses, 90 ties, 37 shutouts, and a 2.51 GAA. In addition, he remains the AHL career shutout leader. Bower was elected to the Hockey Hall of Fame in 1976, and the AHL Hall of Fame in 2006. In 1998, he was ranked number 87 on The Hockey News' list of the 100 Greatest Hockey Players. He was assistant coach for the Leafs from 1976–1978. Bower is also a member of the Etobicoke Sports Hall of Fame since 1994. In January 2004, Bower was featured on a postage stamp. As part of the NHL All-Stars Collection, Bower was immortalized along with five other All-Stars. In 2005, the Royal Canadian Mint featured Bower on a non-circulating fifty-cent coin, as part of its four-coin Legends of the Toronto Maple Leafs coin set. In 2007, it was announced that Bower would receive a star on Canada's Walk of Fame.