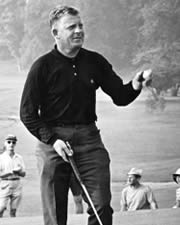 Murray Irwin "Moe" Norman (July 10, 1929 – September 4, 2004) was a Canadian professional golfer. Born in Kitchener, Ontario, Canada, Norman played briefly in the PGA Tour but due to shyness and a preference to stay in Canada, he stayed in Ontario rather than travel.
 Norman's play, along with his way of dressing, were both described as unconventional. He devised what is known as "The Norman Swing"—very short backswing and very short follow-through which produced an amazingly accurate ball placement. He played extremely fast, sometimes not even slowing to line up his putts. He was inducted into the Canadian Golf Hall of Fame in 1995. He never took a golfing lesson. It is even said that on one hole his caddy told him he could get to the green with a driver and a nine iron. Naturally, he hit off the tee with his nine iron and then onto the green with his driver. Norman's skills as a ball striker are legendary. Sam Snead, himself a great golfer, once described Norman as the greatest striker of the ball. In January 2005, Tiger Woods told Golf Digest's Jamie Diaz that only two golfers in history "owned their swing": Moe Norman and Ben Hogan. Stated Woods, "I want to own mine." Norman died in a Kitchener hospital from congestive heart failure. He had suffered from congestive heart failure since having heart bypass surgery six years earlier. He also had a heart attack two years before his death.
Honoring the Legend of Moe Norman
Norman is recognized as one of golf's most colorful personalities, as well as perhaps the best ball-striker golf has ever known. He played with a unique single plane swing, a swing that countless "natural golfers" have found the easiest and most accurate in golf. In the 1990s, respect and financial security finally arrived. Natural Golf became a sponsor of Norman in 1994 and proved to be one of his most devoted supporters, right through until his death. He conducted clinics for Natural Golf and proudly wore the logo during his many appearances on TV and for articles in magazines. In 1999, Barry Morrow, Oscar winning screenwriter for the movie Rain Man, completed Dance The Green, the screenplay of Moe Norman's life. Today, Moe's Legacy is represented by Todd Graves and the Graves Golf Academy. With Academy locations in Orlando, Florida and Edmond, Oklahoma the Graves Golf Academy conducts clinics and schools teaching Moe Norman's swing around the United States.