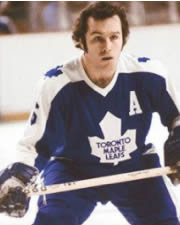 Ron Ellis was born on January 8th, 1945, and grew up in Lindsay, Ontario. He began his hockey career while playing with the Toronto Marlboros.
In 1964, Ellis won the Memorial Cup alongside other icons such as Mike Walton, Nick Harbaruk, and Pete Stemkowski, among others. Ellis began his 15-year career with the Toronto Maple Leafs in 1964-65, winning the Stanley Cup in 1967.
He also is part of elite company as one of only 104 players to play their whole NHL career with one team. Ron also played a part in the 1972 Canada-Russia Summit Series, an epic moment in Canadian history. An icon for the Toronto Maple Leafs and for Canadian Hockey, Ron is recognized for his consistency on the ice, his unparalleled loyalty, and his generosity off the ice.