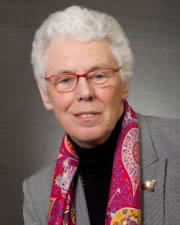 Abby Hoffman was accomplished in multiple sports before settling on track and field.
As a youngster in Toronto, Hoffman learned to skate at the early age of three. When she was nine, she wanted to play hockey but there were no leagues for girls in the Toronto area. Hoffman was determined to play and cut her hair and registered herself as 'Ab Hoffman' in the boy's league.
When it was discovered she was a girl, Hoffman was no longer allowed to play. Her parents took the case to the Ontario Supreme Court and the story was covered by Time Magazine and Newsweek.
After her experiences with hockey, Hoffman participated in competitive swimming and then realized she was particularly suited to track and field, specifically 800-metre running. She competed in four Olympic Games: (1964, 1968, 1972 and 1976), four Pan American Games and two Commonwealth Games and was Canada's flag-bearer at the 1976 Games in Montreal.
She finished 7th in the 800 metres at the Mexico Olympics; and in the 1972 Munich games she was 8th in a historic women's 800 metre race in which the entire field, but two runners broke the two minute barrier. Hoffman ran 2:00.17 seconds; a Canadian record and personal best.
Hoffman also won gold for the 800-metre race at the 1963 Pan American Games and the 1971 Pan American Games, along with a bronze medal during the 1967 games.
At the 1975 Pan Am Games, Hoffman also captured silver and a bronze medal for the 800-metre and the 1500-metre distances.
From 1981 to 1991, she was the first woman Director General of Sport Canada, a federal government sports agency. In 1981, Hoffman was the first Canadian woman elected to the Executive Committee of the Canadian Olympic Committee.