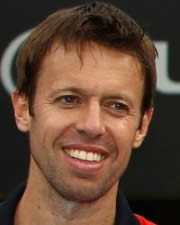 Daniel Nestor is one of the foremost doubles players in tennis history, due to his longevity and continued success at the top of the men's game.
Nestor won his first doubles title in Bogotá, Colombia with Mark Knowles in 1994. They defeated French Open champions Luke and Murphy Jensen in the final.
He was a member of the Canadian Davis Cup team from 1992 to 2018. Nestor first came to prominence in the public eye that year by defeating then world number one Stefan Edberg in a hard-fought singles match in Vancouver. He was part of the squad who made history for Canada in 2013, as they were the first Canadian team in the Open Era to reach the World Group semifinals.
At the 2000 Summer Olympics in Sydney, Australia, Nestor and partner Sébastien Lareau won a gold medal, the first and only medal so far in tennis for Canada. The duo won four more titles together during their career, which was highlighted by an ATP Masters 1000 win in Canada.
During his career, Nestor won 91 men's doubles titles (with 11 different partners), including a Gold medal at the 2000 Summer Olympics, four ATP World Tour Finals, and eight Grand Slam men's doubles titles attained with three different partners.
Other accolades, include Nestor was appointed to the Order of Canada in November 2010. In September 2018, he announced his retirement after 28 years.