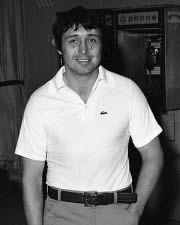 While growing up in Scarborough, Ontario, future hockey star Brad Park often skated with and against older kids. He developed into a strong player and was part of the Scarborough Lions team that won the first Quebec Peewee Tournament in 1960.
He was still small at age 15, standing only 5 feet tall. But Park grew eight inches in a year. When he tried out for the Toronto Marlboros in 1965, he got noticed quickly for his physicality. During the first scrimmage, he slammed into Brent Imlach, son of Maple Leafs coach and GM Punch, and knocked him out. Park made the team and, in 1967, starred for the Memorial Cup champions.
In 1966, the New York Rangers made Park a first-round draft pick, taking him second overall. In 1968, after a brief stint in the AHL with the Buffalo Bisons, Park made the big league team.
Park split his 17-year NHL career between the Rangers, Boston Bruins and Detroit Red Wings.
While in the 'Big Apple,' Park became the Rangers' best defenceman. His play drew comparisons with the great Bobby Orr. Both were credited with revolutionizing the "offensive" defenceman.
In his final two seasons, Park helped the struggling Red Wings make the playoffs. This feat helped Park set an NHL record. He qualified for the postseason in each of his 17 NHL seasons. The previous record holder was Jean Beliveau with 16 straight playoff appearances.
When he retired in 1985, Park was the all-time leader among NHL defencemen with 683 assists and ranked third in goals (214) and points (896). He was elected to the Hockey Hall of Fame in 1988, in his first year of eligibility.