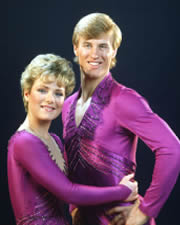 It is difficult to quantify the chemistry of a team, especially in a sport such as figure skating, where outstanding pairs must combine individual excellence with flawless teamwork.
But if longevity at the highest levels of success is any measure, Barbara Underhill and Paul Martini were one of Canada's most successful figure skating duos. Both began skating at age five, but they met at a summer skating school in Weston, Ontario, in 1977, when she was 14 and he was 16.
Underhill and Martini combined emotion in their choreography with dramatic death spirals, triple twist lifts and spectacular throws. They were five-time Canadian champions (1979-83) and two-time World medalists (bronze in 1983 bronze, gold in 1984).
The breakthrough at the world championships for Underhill and Martini came in 1983 at Helsinki, where a near-flawless performance earned them a bronze medal, behind pairs from the Soviet Union and East Germany. It was Canada's first Olympic or world championship medal in pairs figure skating since Debbie Wilkes and Guy Revell had won world championship bronze in 1964.
Their 1984 World Championships long program in Canada is considered one of the greatest moments in Canadian sports history. They were two-time Olympic competitors (1980, 1984).
After winning their world title in 1984 following a disappointing Olympics, where they failed to win medals, Underhill and Martini enjoyed an illustrious professional career, touring and commentating on skating on Canadian television for another 19 years.
Underhill was named in the 2011 edition of The Hockey News's list of the 100 most influential people in ice hockey due to her power skating coaching.