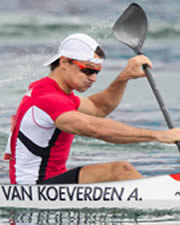 Adam van Koeverden is one of Canada's most celebrated athletes thanks to his four Olympic medals – the most by a Canadian paddler.
At an early age, van Koeverden got acclimated with the water, after his mother signed him up at the Burloak Canoe Club in Oakville, ON, when he was 13 after seeing an ad for "Future Champions Wanted"
A bronze medallist at the 1999 World Junior Championships, van Koeverden went to Athens 2004 as the world silver medallist in the K-1 1000m. He won bronze in that event and a day later the 22-year-old captured gold in the K-1 500m for Canada's first Olympic victory in canoe/kayak in 20 years.
After his impressive performances, as Canada's only double medallist in Athens, van Koeverden went on to win the Lou Marsh Award, as Canadian Athlete of the Year.
In the lead up to the 2008 Beijing Olympics, van Koeverden was named flag bearer for the Canadian Olympic team at the opening ceremony, making him one of the few athletes to carry Canada's flag twice at the Olympics.
van Koeverden is a graduate of McMaster University's Bachelor of Science Kinesiology program in Hamilton, Ontario. He graduated in June 2007 as valedictorian of his class.
A ceremonial street name unveiling to honor van Koeverden preceded the event. Adam van Koeverden Street, which is currently known as Water Street, is located near his Oakville harbour home club, the Burloak Canoe Club.